Ice House 2023
Imagine wearing a heavy coat indoors to avoid hypothermia. Or leaving your house because it's warmer outside. Or doing without food and medicine just to stay warm.
What does an unheated home feel like? Glad you asked!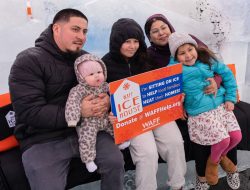 On Jan. 21, 2023, the Washington Area Fuel Fund (WAFF) Ice House was a star attraction at the Fire & Ice at the Wharf DC event on the District Pier. Visitors stepped inside to have their photos taken on the famous Ice Couch while making a donation to help our neighbors stay warm.
In 2018, Washington Gas launched the first WAFF Ice House as a way to raise awareness of unheated homes. Designed by Ice Lab, a Baltimore-based company specializing in modern ice carvings, it is created by stacking huge ice blocks to form a 10' x 20' single-roomed house. Visitors are invited to experience the conditions facing families with unheated homes and to support local households through WAFF.
More than 120 hours of meticulous ice carving were needed to create the ice blocks and ice couch for the 2023 WAFF Ice House. Each of the +80 blocks weighed approximately 300 pounds, with the total structure tipping the scales at just under 13 tons of pure ice. The talented assembly team began constructing at midnight and had the house completed at dawn, capitalizing on the coldest temperatures of the day.
More About WAFF
Since 1983, WAFF has been helping local families warm their homes during challenging times. A strategic partnership between Washington Gas and The Salvation Army, WAFF has distributed approximately $33 million toward winter heating across D.C., Maryland and Virginia in the past 40 years.
Underserved families spend more than 30 percent of their income on energy bills. WAFF bridges this assistance gap by making emergency funds available for those who need help paying their heating bill. For $500, a family can warm their household all season. Washington Gas pays for all administrative and promotional fees, so 100% of all WAFF donations go directly to heating assistance.*
*WAFF financial statements
Become an Ice House Sponsor or Donor
Each block of the WAFF Ice House is sponsored by an individual or organization, with all proceeds going directly to WAFF. The Ice House also includes fun winter games that are available for sponsorships.  Become an Ice House sponsor today!
While the Ice House happens once a year, the WAFF program thrives on year-round donations in any amount. You can donate online or by mail and make a one-time or recurring donation. We also accept donations at many events throughout the year. We hope to see you there!
Donate Now